Website design for small business in 2023
Website design for small business is very crucial in 2023. Website design for small businesses is in the trend. Business should be digitalized in this modern era, need to make the content visible on the internet, and for the online presence of your business, small business needs to have a website.
Business listing sites or social media sites could be alternatives for the online presence of a business, but your own business website is the best option. Every business owner's first priority should be website development for business growth.
Website design cost for small business is around NRs. 25,000/- or even cheaper. But as a business owner, you should make sure all the features are included that will describe your business. Customers can visit the website using any device. The website should be responsive that are compatible with different size screens like mobile, tablets, laptops etc. According to the StatCounter website, 62.06% of total traffic comes from mobile devices only. Customers can visit your website by using any device. So, it is important to customize your website for all devices.
The website needs to be easy to navigate where the user can get the information easily. A dedicated page for a site map can help your visitors to understand your website navigation. Confusion or hard to navigate the website can reduce your website traffic. Choose font family and font size wisely. Make sure that your content text is not bulky or looks too small.
Benefits of having a Website for Small Business in Nepal
High customer reach:

Accessibility of the website makes your clients visit your business or store 24/7. Your clients can get information or can buy products at any time they want. Most of the physical shops are open from 10 Am. to 8 Pm. But your client may not have time to visit at your time. Website will provide you greatest edge over your competitors to run your business 24/7, customers can visit as per their favorable time.

Low budget web development for your small business:

For small business budget allocation is also small for website development. You can develop websites for small business on a low budget. In the beginning stage, websites with fewer features and fewer pages are also beneficial for small business. For digital presence, this type of website is also enough. As the profit increases, a business owner can spend more money on extra features and pages. Websites can be modified as per the business requirement and the budget.

Brand visibility and recognition for small business:

For a startup and small business brand visibility and recognition are important. People should be informed about your business and potential customers should be aware of your products and services. The website can provide information about the business; the location of the business, what the business is providing and how your business is helpful for them as well as provide information about the future plan of the business.

Track the customer's behavior and get feedback:

Customers for different businesses have their own behavior. The website will help the business owner to track the customer's behavior and find the actual needs of the clients. Customers can provide feedback and queries online, which will help your business to multiply.

Save money on paper advertisement:

A website is the cheapest method of advertisement. In the paper advertisement, there could be limited options. Hand out flyers, local newspapers etc. may not sufficient for your brand visibility. The website will provide limitless opportunities to reach your customers.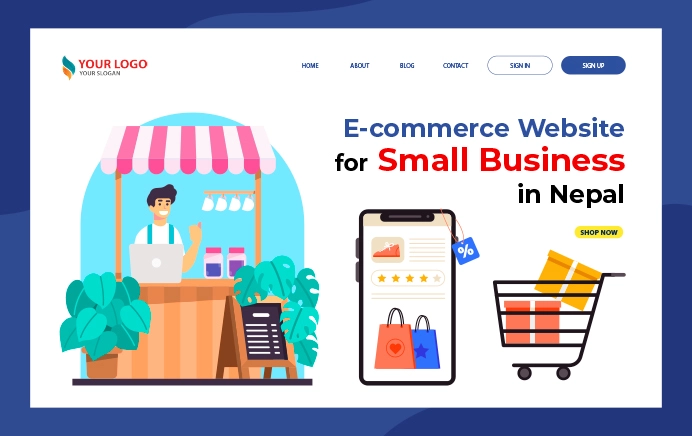 E-commerce website for small business in Nepal
E-commerce website for Small business in Nepal have lots of opportunities. According to data, NPR 7.87 billion sales and a total of 1,140,956 transactions were made by the Nepali e-commerce website in the first nine months of the fiscal year 2020-21. NRs 349 million rupees were paid for e-commerce platforms by using cards only during the period from mid-December 2021 to mid-January 2022.
There is a huge market for e-commerce and online selling in Nepal. A website with the low budget can boost your business and skyrocket your sales. This provides an extra edge over the competitors and makes the business successful. With the website, a business owner can provide lots of information, can able to target the local customers, help to navigate the office using the website.
Selling products using e-commerce website are the most common in Nepal. Above data shows that demand of E-commerce website for small business in Nepal is very high. From small store to very big marts of Nepal are using e-commerce website to sell their products. Most of them are successful and traditional small business owners following this trends to sell their products.
Things to be considered before creating a website for small websites
Choose the best domain name: Before creating the website, the domain name should be finalized. Domain name need to be short and easy to remember.
Get the logo: The logo is the representation of your business. It should be attractive and eye catchy. Do not use more than 3-4 colors and these colors should be chosen wisely.
Choose a simple design: Website design for small business should be simple and easy to navigate. A complex or cluttered website structure will be difficult for customers to navigate. That may reduce interest in your business. The client may exit from your website without getting sufficient information.
Modern website design: Website design for small business should be modern and unique. Old and outdated website design could harm your reputation.
Free website design for small business in 2023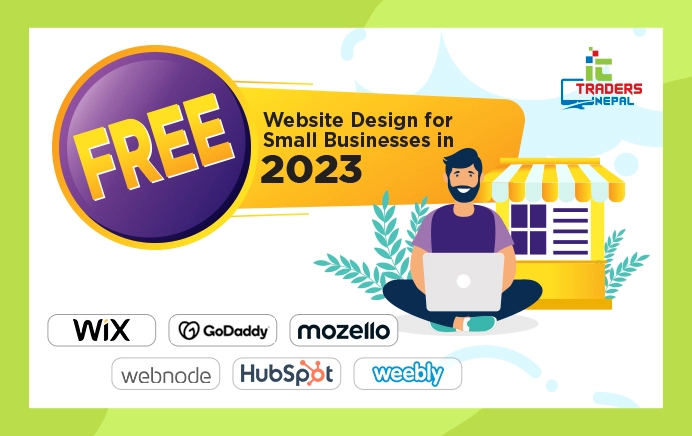 In 2023, there are lots of options for free website design for small business. There are many website builders providing free website design for small business in 2023. Some of them are listed below:
Wix: It is one of the best website builder for small business for free, and also include built-in marketing and SEO tools.
GoDaddy: GoDaddy is one of the most popular free website builders. It is a domain registrar and web hosting company that provides free website builders.
Weebly: Weebly provides an e-commerce website builder free of cost.
HubSpot: With a custom domain, you can get a free website builder service.
Webnode: It provides a free website builder service with lots of free templates.
Mozello: Mozello provides a free website builder with the most intuitive interface.
Small business website in Nepal
Small business and startups have lots of potential in Nepal. Business owner of small business can get benefits by using website in a proper way. Making aware of your business, service information, mission & vision of the business, navigation of physical location of business and many more information can be provided by creating a simple website for small business. Online queries and feedback can be taken using website.