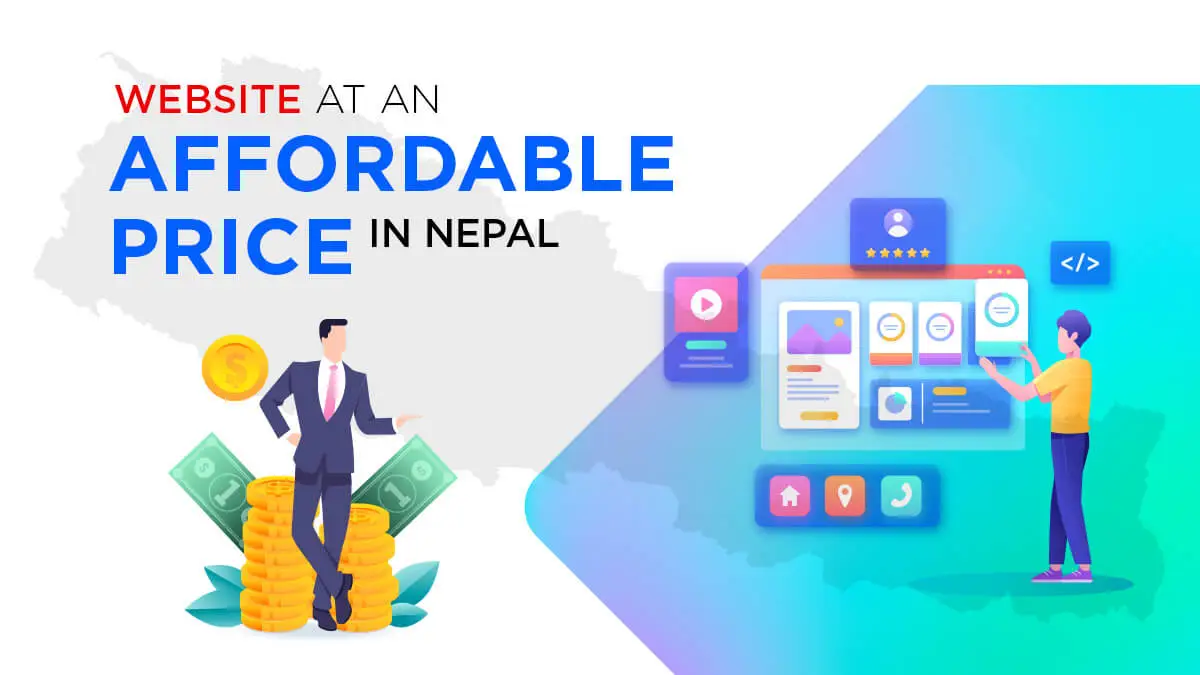 Do you need the best website at an affordable price in Nepal? There are lots of options for you. IT Traders Nepal is the most affordable website designing company and secure website hosting provider of Nepal at a low price. IT Traders Nepal is a Nepal-based website design and IT service company, now within 14 years associated with its functioning using a great team. We are all have been certainly passionate about website design, eCommerce, custom graphic design, and search engine optimization.
How to get the best website at an affordable price in Nepal?
There are lots of web development companies in Nepal. Choose one of them who has tremendous experience and a good track record with clients. Creating a website is not enough, you need domain and hosting also. To make a website at an affordable price choose the .np domain and choose a free website hosting service. This will reduce the overall cost of website development.
What is the price range for a good website in Nepal?
In Nepal, there are lots of website design companies. Everyone has their own price range. These price ranges are based on mainly two parameters website features and website development methods. For WordPress, website price starts from Nepalese Rupees NRs. 10,000/- and the Laravel website starts from Nepalese Rupees Nrs. 25,000/-
How much does an E-commerce website cost in Nepal?
Are you thinking of making an e-commerce website in your budget range? The cost of an E-commerce website is depended on the method of website development and language used for coding. Normally, WordPress-based e-commerce website cost ranges from NRs. 25,000/- and the Laravel website starts from NRs. 45,000/-. The price of e-commerce websites also varies on their design and quality.
What is the website price for small businesses?
In Nepal, the average price of a simple website for small businesses is NRs. 10,000/-. In this price range, the website will be developed in WordPress. The price ranges may also vary on its features, SEO friendliness, and user-friendliness. Laravel and CodeIgniter websites cost NRs.25000/- for small businesses. Normally, the prices vary from a website development company to company. Such websites will be best for NGOs, INGOs, startups, etc.
How much does it cost to make a simple website in Nepal?
In Nepal, price range for simple website starts from NRs. 5,000/-, and it is the minimum price that may varies from development company to company. For static website. Price for static website is lower than dynamic. Freelancer can provide in more cheaper price.
The cost of website developments is mainly based on these three components:
Website development method
Domain registration
Website hosting
Website development method
The cost for Website development depends on your needs and requirements. For custom or complex websites, the price ranges are different from a simple website. A complex or custom website may need specific features so that's its price may high compared to a simple website. SEO friendliness and user-friendliness take more time for creating websites. This will be another reason for costing high in the website development process. There are various factors that determined the final cost of the website development. One of the major factors is using languages such as Python, Php, Java while building a website.
Websites are categorized on the basis its types: static websites and dynamic websites. Static websites are those websites that may not need a database. It is coded in HTML, CSS, and JavaScript and stored in a web server. For the modification of a static website, designing skills must be required. Dynamic websites need the database and the programming language as well as HTML, CSS, and frontend language. The cost of a dynamic website is higher than a static website.
Domain Registration
A domain name is a string that is written in the address bar while visiting the website. These domain names must be registered. In Nepal, registration of .COM/.ORG/.NET domain costs Nrs.1000/- per year, whereas the cost for .np registration is free.
Website hosting
The service allows to store and publish a website or web page on the World Wide Web (WWW). It provides all the technologies to publish individual or organization websites. Website hosting is paid and free. Website hosting price range starts from NRs.2500/- In short, web hosting tends to be the cheapest type ranging between NRs. 2500/- to NRs. 5000/- per month whereas dedicated hosting costs are high.
Use IT Traders Nepal Web Hosting service to make your website available on the Internet. We are a prominent web hosting business in Nepal, providing affordable web hosting and trustworthy domain registration services. We take pride in offering innovative control panel services with a 99.9% uptime guarantee and the quickest assistance available. IT Traders Nepal registers the.com/.net/.org domains in under one hour. In a matter of minutes, you may have your business online, and you can switch accounts at any moment.
Our server hosting services are accessible 24 hours a day, 7 days a week. We are devoted to delivering in-house technical assistance at any time, which is ideal for business-essential applications and e-commerce setups. IT Traders Nepal has already provided high-quality website design and development services to several clients with no concerns or complications. Our services are of the highest quality, and they do not end after the website is delivered.
What is an IT Service Company?
Website at an adaptable is critical to the success of your company's marketing strategy. At IT Traders Nepal, we deliver best website according to company requirement. We are specialists with a 7-year record of success in creating the ideal website for differnt companies or groups. We're proud to tell you that we've built over 800 websites in total. We recognize that your website serves as a vital focus for your communications and marketing activities; therefore, we ensure that what we provide the highest quality.
Digital marketing technologies have gained traction in the marketing world throughout the years. We realize that a responsive website combined with a great user experience, or UX, is the ideal way for your business to develop enormously. Mainly we are focused on providing quality services to our customers on much cheaper and affordable capital which won't let their budget go dilute.
Every company wants its website to be unique, interactive, and well-maintained, to achieve your goal our team offers the best deal for your company's website design. We provide a Threat-free website, frequent backups, and a SSL certificate to make your website more secure. We also provide SEARCH ENGINE OPTIMIZATION services like Market studies, technical analysis and keyword research, SEARCH ENGINE OPTIMIZATION article writing, Code optimization, SEARCH ENGINE OPTIMIZATION consultation services. Because our SEO experts are well-versed in the algorithms of search engines like yahoo, Yahoo, and MSN; they can ensure top positions on these research engines.