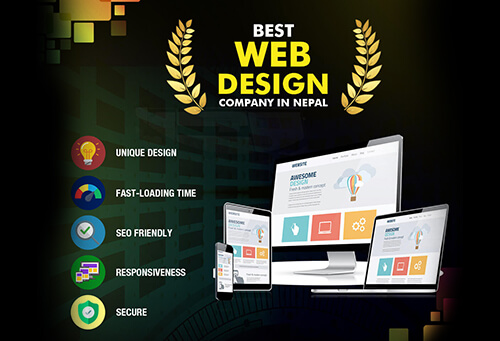 IT Traders Nepal is the Best Website Design Company in Nepal. With 15 years of experience in web development now we can claim IT Traders Nepal is one of the best website design companies in Nepal. The data from the Google search console and various agencies, and research support our claim. To get this achievement we did tremendous hard work and our professionalism play an important role. Our professional team deals with clients professionally. Our main priority is to increase client's business and to reach their clients through the website.
As a Website Design Company website creation may not be sufficient, it is necessary to make sure that website is SEO Friendly, responsive and secure. A good website must be SEO Friendly so that website can be ranked in Search engines like Google, Bing, Yahoo, etc. Search Engine is one of the best mediums to bring traffic to your website. Responsiveness is also important for all websites because traffic to websites is not limited to computers. Website visitors can use mobile, tablets, iPad, laptops, etc.
Most of the website designing companies are based in Kathmandu valley. Website designers for e-commerce websites or non-e-commerce websites like personal websites, business websites, portfolio websites, etc. are hard to find. Top web design companies and popular IT companies are not providing services out of Kathmandu. It may be difficult to find the best website designing companies outside Kathmandu. In this case, IT Traders Nepal may be the perfect option for great website design outside Kathmandu valley. We provide services all over the country. For Communication, various methods like mobile, phone, and social media messengers will be used. We are providing website development services for a large number of clients outside Kathmandu valley.
Why We Are the Best Website Design Company in Nepal:
Unique Design and Custom Features Website:
IT Traders Nepal is well known for its unique website design. We develop unique website designs with custom functionality according to the needs of clients. To achieve the unique design we maintain consistency, color choice, typography, image, and video placement, ease to navigate, and functionality according to needs. We provide a custom admin panel so that clients can edit or update website content. Most of the Website Design Companies in Nepal provide a similar website for all clients. Their admin panels are also similar to each other. But IT Traders Nepal never compromises in design and functionality.
Responsiveness:
Responsive website design makes the website adaptable to any size of the visitor's viewport. Website will compatible with all kinds of devices like Desktop/Laptop, Tablet, iPad, and Mobile etc. Visitors of the website will have an optimal experience with any screen size. Images, text or any elements of the website will fit according to the visitor's screen size. Responsiveness is a mandatory factor for websites to rank in Google Search Engine.
Fast-Loading Time:
A website needs to load fast for a good user experience. Visitors are too busy, and they have a lot of options and alternative websites that can replace your website. They cannot wait for a long time to load your website. Slow websites always have a chance of a high bounce rate. A slow website will not rank a website in the search console and the website can lose visitors.
SEO Friendly:
Today SEO plays a vital role in getting traffic. All our websites will be SEO friendly and we register the website in the Google search console. We provide free technical SEO services for all our clients. This will helps your website index in Google and start to rank from the very beginning.
Secure:
Website must be secure and prevent hackers and cyber thieves so that no one can access sensitive information. E-commerce website Development companies must follow safety protocols. Using SSL certificate, latest version plugins, making admin panel more secure and using more precautions while developing a website can prevent from cyber-attack. We use all the precautions to make a website more secure and safe.
Although we develop every kind of website, we are specialized in creating an e-commerce website, News portal, Manpower website, NGO & INGO websites. Most of the e-commerce website Development Company in Nepal uses a similar design and similar template to design websites. We develop custom and unique design for an individual client. We never use the same design in two or more websites. News portal website Development Company in Nepal use similar design as well as same admin panel.